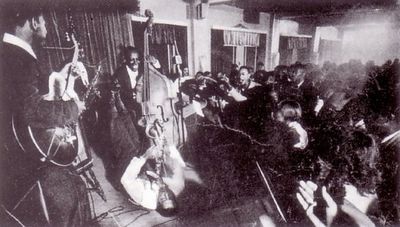 I always thought of
FATS DOMINO
as a bit of a corny singer. My parents used to have this dreary 5LP box set in their rather dull record collection (which also featured uhm... 'incredible masterpieces' by Neil Diamond, John Denver & Barbara Streisand). It must've been some kinda cheap reissue as I don't think they would've spent a lot of money on a box set. I gave it a few spins as a teenager but didn't understand what all the fuss was about. After all, Fats Domino was a household name, being one of the few black artists to continually make the pop charts, altogether selling over 65-million records, including 23 gold singles! A couple of weeks ago however, I ordered a couple of CD's at
RED LICK
and I really couldn't resist a £2,00 Fats Domino collection on Ace Records. The other day, I received the CD in my mailbox and I am totally hooked!
'The Imperial Singles Volume 2 : 1953-1956'
is shockfull of spectacular New Orleans R&B tunes pushed towards rock and roll. This is what I call 'Goodtime Music' : rollicking R&B of the highest order. The lyrics are a true revelation :
"Oooohooohooooo, you're so fine, I'm glad you're mine, lalala, lalalalalaa...".
Simplicity in complicated times is all you need. The picture above features Herbert Hardesty from the Fats Domino rhythm section, lying on the floor of the 54 Ballroom in Los Angeles while honking out a sax solo of
"Don't You Know".
The fans loved it and so will you. The CD lasts for 71 minutes and I still keep pushing the repeat button.
Woo Woo Woo, Woo Woo Woo Woo!!!