ON A WEEKDAY IN SEPTEMBER 1999, JAPANESE NOISE MONGERS
MELT BANANA
GAVE A BLISTERING SET OF FRENZIED PUNK AVANTGARDE THRASH AT THE 4AD CLUB IN DIKSMUIDE. BEFORE THE SHOW, I ASKED THE BAND A COUPLE OF QUESTIONS. NOW THAT MELT BANANA HAS JUST RELEASED A GREAT SINGLES COMPILATION ON THEIR OWN A-ZAP LABEL, I THINK IT'S ABOUT TIME TO PUBLISH THIS LITTLE INTERVIEW...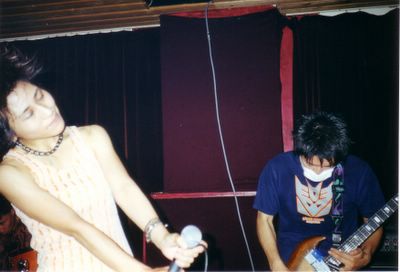 So when did the band start?
In 1994!
Only 1994?
OK, 1993.
Ah!
Our original drummer quit the band last year. He used to be in a band called Satanic Hell Slaughter which was a grindcore band. In Japan they were some kind of cult because they are from the northern part of Japan and people in Tokyo couldn't see 'em often. Since he had moved to Tokyo, we found his phonenumber and we asked him to join us.
How would you describe your music to outsiders?
The easiest way would be to say punk but we prefer to describe our music as GAGAGAGA-KIUNE-GAGAGAGA-KIUNE-KIUNE-NJHE-NJHE-NJHE-NJHA!!!
? ? ? ? ?
It's just a sound. Usually this expression is used for comic cartoons like Masinga.
Your music sounds like weird & fucked up cartoons. Can you tell us some more about the band's main influence?
We don't try to make music like watching a picture and trying to write a little change. Not like that! We just mix different influences in the brain.
Do you get influences from exhibitions?
Sometimes, we like going to exhibitions and watching Japanese animation.
Was the Japanese director Tsukamoto an influence?
It's not really a big thing for us. We're more into animation by Katsuhiro Otomo who did Akira and Spraygun. Spraygun is very good. It's a very fast and violent animation movie.
Do you sometimes get strange reactions to your music at live shows?
In the States sometimes but not in Japan. When we play shows in Japan usually young people come to the show. In the United States not only young people attend our shows but also old hillbillies who happen to be at the club. But it seems like they enjoy our music too so that's good!
What about the underground scene in Japan?
These days, there are many fastcore bands like Slight Slappers or Fuck On The Beach and grindcore bands like 324. Those bands are very active and many people go to check 'em out. Before - like 5 years ago - Thurston Moore from Sonic Youth and Steve Albini raved about the Japanese noise scene so many people started to pay attention. Although nowadays this kind of attention has been decreased, in Japan the hardcore stuff is very active.
How did you meet John Zorn?
We met him in Japan a long time ago. The reason why he put out an album of ours was when we played in San Francisco, Mike Patton saw our show and he's a very close friend to John Zorn. He knew us for a long time, but because of Mike Patton's phone call, he decided to put out our album which was recorded live in the studio.
Can you tell me about the A-Zap label?
It's our own label. Revolver USA helps us to manufacture and distribute. They have a good distribution in USA maybe not as good here. So far we released two albums on the label.
Can you make a living from the band?
Not really. I work at home as a free lance. I edit on a computer for other companies but it doesn't come constantly so sometimes I have money and sometimes not. But I can have time to do what I want to do, like writing music, so it's a good job for me. Once I had a 9 to 5 job but it was very hard to find the time to write music or to write lyrics so I quit it.
Well Done!
Melt Banana website