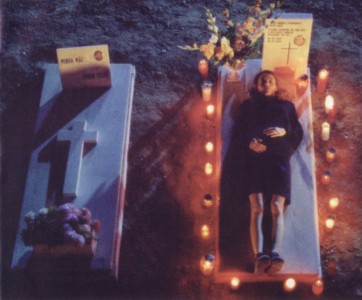 ***½ ODETE (JOÃO PEDRO RODRIGUES - 2005 – Portugal)
. João Pedro Rodrigues' first feature, the 2000 Venice competition entry 'O Fantasma', was one of the most original debuts in recent years. This second feature doesn't really life up to the first one but it is still an intriguing piece of cinema. It tells the story of a girl sinking into madness when crossing paths with a boy mourning the death of his gay lover. Another dark & twisted tale by this Portugese enfant terrible.
---
**** CROSSING THE BRIDGE: THE SOUND OF ISTANBUL (FATIH AKIN
2005 - Germany – Turkey)
is the follow-up to Fatih Akin's overwhelming Golden Bear-winner 'Gegen Die Wand' and another proof of the director's contagious enthusiasm and efficiency. Akin takes us once again to the melting-pot Istanbul to paint a unique portrait of the city's vibrant music scene. He follows Einstürzende Neubauten bass player Alexander Hacke who fell in love with the city sounds and seeks out its musicians. The range of Akin's film is amazing : Hacke explores everything from classical music to noise-rock, hip-hop and street music. The changes from one musical genre to another are never abrupt and the interviews never become boring. A winner from start to finish!
---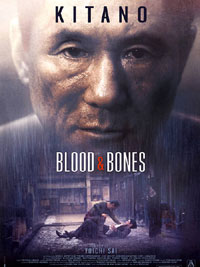 Based on a popular Korean novel, but cast entirely with Japanese actors and written with predominantly Japanese dialogue,
*** BLOOD AND BONES (YOICHI SAI - 2004 – Japan)
covers 61 years of familial tyranny by an ultra-violent patriarch called Kim Sun-pei who, in the 1920s, attempts to build a fortune in Japan. This Korean migrant (an amazing Takeshi Kitano, under his acting moniker Beat Takeshi) literally blows everybody else off the screen. The story is told by Kim's son Masao who reveals at the beginning that he was born after his father raped his mother with his sister looking on. Treating his wife, children and fellow members of the Korean migrant community in Osaka with disdain, Kim drinks and womanizes, establishing multiple mistresses, siring several bastards and acquiring great wealth. Bullying his way, he develops a fishcake business into a loan-sharking and property empire. The stylish art direction and the smooth pace at which the movie flows makes BLOOD AND BONES a ruthless but interesting family drama.
---
*** ME AND YOU AND EVERYONE WE KNOW (MIRANDA JULY - 2005 – USA)
, the first feature by multimedia performance artist Miranda July, is a fresh & inspired observation about love, loss and loneliness. The film opens with an act of lovelorn desperation as shoe salesman Richard (John Hawkes) responds to the news that his wife is leaving him by setting his own hand on fire. It immediately sets the absurd tone of Miranda July's highly original script. There are some very funny moments like when 7-year-old Robby conducts a chat room flirtation with an over stimulated adult female on the Internet, seducing her with the romantic promise:
"You poop into my butthole, I poop into your butthole, back and forth forever."
A featherweight film, entertaining but – let's be honest - far from unforgettable.